Courses and Programs
Cynthia offers courses in several areas for personal and professional growth. These programs are available throughout the year through Circle of Energy or may be customized for your group and/or facility.
Book a Session or Join a Class
Polarity Therapy Training (Massage CEU's)
Polarity Therapy is a comprehensive wellness system developed by Dr. Randolph Stone, DO, DC, ND, (1890-1981). Dr. Stone combined his direct experiences and the principles of Ayurvedic medicine, chiropractic, osteopathy, Hermetic Science, reflexology, quantum physics, and other holistic systems to create Polarity Therapy. Energy is the dynamic component of all these systems and the basis for Polarity Therapy.
Cynthia is a Registered Polarity Practitioner (RPP) with the American Polarity Therapy Association and a Polarity Therapy Professional (PTP) with International Polarity Education Association.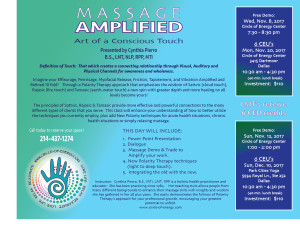 ---
Reflexology Courses (Massage CEU's)
There are 7,200 nerve endings in each foot. Perhaps this fact more than any other, explains why we feel so much better when our feet are treated." This course will teach you how to give an effective Reflexology and Zone therapy session for the feet. You will come to understand the mapping of the bodies systems in the feet and how to work the zones of the body in correlation to the reflexes of the feet. We will also spend some time with the reflexes found in our hands.
---
The Art & Science of Aromatherapy (6 hr. CEU)
Date: TBA Time: 11AM to 5:30PM Cost $120 (includes essential oil blend)
The Art & Science of Aromatherapy
Enhancing your massage practice and healing your self.
Essential oils are a profound tool for healing on all levels. Discover and enjoy the power of these aromatic molecules that are 75% more potent than dried herbs.
Book a Session or Join a Class
---